Inverse modeling
We develop and apply models to solve inverse problems concerning different environmental field.
In particular we have experience in the following fields: calibration of hydraulic and hydrological models, estimation of aquifer hydraulic parameters, identification of release history and source position of pollutants in porous media, reverse routing of flood waves in open channels, reservoirs and combined sewer overflow (CSO) structures, estimation of the flow leaving a levee breach.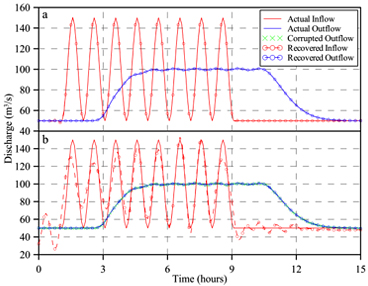 Figure: Actual and estimated inflow and outflow hydrographs to a prismatic channel in response to a train of sinusoidal waves.